About Us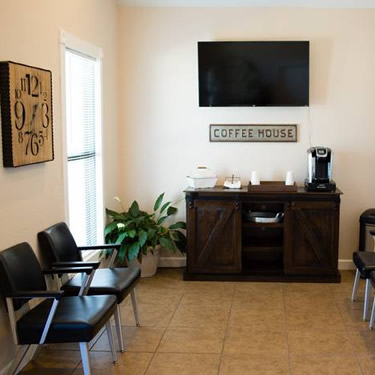 Dr. Mary Power founded her first chiropractic office in 2017. When she opened Power Chiropractic Clinic in Batesville, she intended on opening more centers for natural healing in our area. The key was to find a like-minded practitioner who could carry on her vision of helping others to live their best possible life.
Almost a decade ago, Dr. Power had a flat tire. It was her good fortune that Dr. Leslie McClellan pulled over on the road to assist her. They kept in touch over the years, even working at the same chiropractic office at one point. When Dr. McClellan wanted to make a change, she knew exactly who she wanted to work with. She gave Dr. Power a call, and the decision to open a practice in Russellville was made.
Pairing Advanced Technology and Multiple Solutions
When you become a patient with us, you'll have access to the latest and greatest technology and techniques in the health field. We have digital X-rays and the computerized ProAdjuster adjusting instrument. With these methods, we can gain an in-depth look at your health and give you the precise correction you need. We also have a comfortable drop table, which is fantastic for expecting moms.
In addition to chiropractic, we have acupuncture, physiological therapeutics and massage therapy available to you.
I feel so much Better already after the first visit! Still a little sore on my right shoulder blade but 80% Better with just my 1st visit!

Very friendly atmosphere. This was my first visit to a Chiropractor and it was a great experience. Hoping to get help and am going back for a second visit soon.

Everyone was so friendly. I am excited about future visits and feel my problems will be taken care of.

We just love our chiropractor family! There absolutely amazing!!

Wish I would have found this place sooner. I'm sure they will still be able to fix me up. Statted off great!

Thank you for working me in. As a new patient, that just walked in the office, I wasn't expecting that.

I think I'm going to love this place! There was such a friendly atmosphere.

I can't express my gratitude for your professionalism, knowledge, kindness, and compassion. Going through the absolute most difficult time of my life, my appointment with Dr. McClellan gave me a much-needed glimpse of hope. Thank you.

Everything was professional and personal. Both the chiropractor treatment and massage therapist were excellent.

A friend of mine referred me to this place. I loved it! I've been having trouble with my neck for 2 years. They immediately gave me an answer, and they were very honest with me. They also got me in and out in a very quick manner. I'm so pleased with this place, and I'll definitely share about them with everyone else

Had been suffering from cough and allergies for 3 months and after 1 visit went to bed with no medication and no cough or sleeping issues at all!

Morning appointments seems to go faster then afternoon appointments. Supposedly due to people getting off work and coming in. Would recommend a morning appointment if your in a hurry, however, I never felt like I was a cow being ran through a shoot as I have at other clinics. I was respected and genuinely listened to. I would recommend this clinic.
How May We Help You?
Our patients include people who have been plagued by headaches and migraines for years. Used to taking daily medication, they found the relief they needed with chiropractic. We've seen many people with sciatica that suffered from discomfort in their back and leg. When it comes to our younger patients, many were colicky babies until chiropractic helped to alleviate their symptoms.
It's important that you know chiropractic doesn't "treat" anything. Instead, we work to improve your spine and nervous system function. In turn, you'll find that your health-related issues clear up as your body works the way it was intended to.
MEET DR. LESLIE MCCLELLAN »
Schedule a Free Consultations
We'd love to meet you, discuss your goals and find out what you'd like to achieve. Then, we'll create a plan that helps you get there. Experience our positive healing environment. Contact us today!

About Power Chiropractic Clinic | (479) 219-5030