Physiological Therapeutics at
Power Chiropractic Clinic Russellville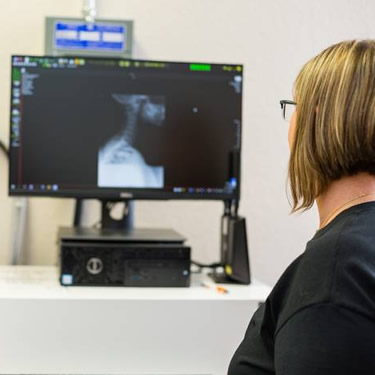 At Power Chiropractic Clinic, Dr. McClellan will evaluate your full-body needs to determine how best to help you. As an adjunct to your chiropractic care, we may recommend a form of physiological therapeutics to assist your healing process.
Our Physiological Therapeutics Options
There are several forms of physiological therapeutics that we provide, such as
Electrical muscle stimulation
Heat
Ice
The goal is to relax your muscles so that you can better hold your adjustment. Often, your muscles are tight or in spasm, meaning it can be more difficult to deliver an effective adjustment. Physiological therapeutics can be the perfect way to ensure that you get the care you need.
Strengthening Your Muscles
When you have rehabilitation with us, you'll have therapeutic exercises, myofascial release and neuromuscular reeducation. We aim to make sure that your muscles aren't shortened as they can become when they're not used properly. Then, we want to strengthen these muscles so that they can hold your spine in the proper alignment.
We recommend that you wear comfortable clothing if you have a rehabilitation session with us.
FAQ
When it comes to your health, we want the best. In order to better help you understand your options for care, we've compiled a list of the most frequently asked questions that we hear about physiological therapeutics.
Should you have a question that we don't cover below, simply contact us and we'll be happy to address your concern.
Do I have to undergo physiological therapeutics after an adjustment?
The choice to receive any type of care with us is always up to you—we'll never force you into anything you aren't comfortable with. Our recommendations are simply made to better help you recover from injury as quickly as possible. When you choose us for your care, we always have your best interest at heart.
Is physiological therapeutics painful?
No, most patients find physiological therapeutics to be an enjoyable experience with us. Physiological therapeutics is designed to better improve function in your body by reducing muscle tension and strengthening the are in question. Our patients typically enjoy the additional support before or after an adjustment.
What is electrical muscle stimulation?
Electrical muscle stimulation is designed to stimulate your motor neurons to contract muscles and tendons in areas that may be injured or experiencing pain. EMS helps you relax, recover and even reduce pain. Because blood flow is encouraged to the area, EMS is an ideal way to improve recovery. EMS may also prevent muscle atrophy after an injury, as stimulating muscles you may not be comfortable using yet is an ideal way to engage them and keep them active. If you're wondering if EMS is right for you, simply ask us at your next visit.
Will I be given recovery tips for home?
Absolutely. We love showing our patients different exercises and stretches that can help them improve their results outside of our care.
How long should I participate in physiological therapeutics?
Because each patient has a unique set of needs and goals, we'll lay out a care plan for you that can bring the best results. We may recommend physiological therapeutics in some form before or after each visit, or only when you visit us sometimes. Know that we're always keeping your needs at the forefront of care.
Can I return to my normal activities after an appointment?
Yes, you can. We recommend not participating in any strenuous exercise—especially if you're dealing with an injury that isn't yet healed. Normal daily activities are completely fine to return to. If you're wondering what exercises you should stay away from, we're happy to guide you and show you different variations that will be beneficial to you during the recovery process.
Will my appointment be covered under insurance?
We can check your benefits for you before booking a visit to let you know whether or not all or a portion of your visit will be covered. We encourage you to give our practice a call or stop by with a copy of your insurance card so that we can give you the best and most accurate answer.
What kind of clothes should I wear to my Russellville physiological therapeutics appointment?
We recommend that patients wear loose fitting or athletic-style clothes to their appointments for comfort and ease of moving. If you're not sure what to wear, simply give us a call. Gym shorts, leggings, t-shirts or sweatshirts are all acceptable.
Do I need to bring someone to my appointments with me?
It's not necessary for you to bring anyone to your appointments with you unless you'd like to. You'll be able to move easily and return to your normal activities right after your visit. Driving or walking will be no issue.
Will my care be the same as everyone else's?
No! That's the great thing about our practice—we'll work with you to devise a care plan that's completely custom to your needs so that your body is getting exactly what it needs for optimal healing and success.
Book Your Free Consultation
We're pleased to offer complimentary consultations. Contact us today to schedule your time for physiological therapeutics Russellville!
CONTACT US »

Physiological Therapeutics Russellville AR | (479) 219-5030