Massage Therapy at Power Chiropractic Clinic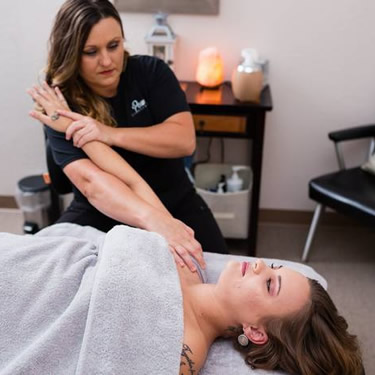 The team at Power Chiropractic Clinic provides you with a full suite of services to help you improve your health and well-being. Our massage therapists are experienced in their field, using their years of skill and expertise to your benefit. Their therapeutic massages are designed to assist your body in functioning at a higher level.
The Types of Massage Available
We'll tailor your massage session to the techniques that are best for you. There may be several techniques used during a single session, choosing from methods such as
Neuromuscular reeducation
Myofascial release
Swedish massage
Lymphatic drainage
Cupping
Enhancing Your Function
When you get a massage at our clinic, we focus on facilitating the movement of your muscles, tendons and ligaments. We want you to relax while taking a therapeutic approach to massage therapy. In doing so, your body can operate as it should.
We seek to reduce issues such as pain, tightness, tension, numbness and tingling.
Combining Chiropractic and Massage
You do not need to be a chiropractic patient to get a massage at our practice. It is, however, incredibly impactful when used together with chiropractic care. You'll find that massage and chiropractic work hand in hand to help you heal.
FAQ
We want you to be an active partner in your care, and that means asking us whatever questions you may have so that we can better help you understand the benefits of choosing massage with us.
Below are some of the most frequently asked questions we hear often. If you have a question not addressed below, please don't hesitate to contact us and ask.
Our massages are designed to be comfortable, relaxing and feel incredible. The goal is to reduce your pain, not enhance it. You can also work with your massage therapist to determine the level of your massage—if it's ever too tough, simply ask them to reduce the pressure. Remember, our goal is to leave you feeling better than when you came in!
How long does a massage appointment last?
We offer different massage lengths to suit your budget and needs. Our practice offers both 30 and 60 minute massages. You can get a better idea of what's best for you when you visit us for an initial appointment.
How often should I get a massage?
When it comes to the frequency of massage, it's important to listen to your body. Our massage therapists will make recommendations for your unique case. Patients who may be in a great deal of initial pain and seeking other modalities, like chiropractic, often benefit from weekly massages at the start. Wellness patients, or those looking to relax and reduce stress, may find monthly massages beneficial.
If I'm also getting a spinal adjustment, should I have the massage first or second?
Massages typically come before a spinal adjustment. This is because massage will loosen and relax your tense muscles, making an adjustment last longer. Your spine will also be better suited to hold the adjustment you receive.
What are the benefits of massage?
Massage has a great deal of benefits, including reduced stress and anxiety, lowered inflammation in the body, improved circulation, reduced pain, improved joint function and mobility and more!
Massage can help a variety of conditions or problems that you may be experiencing. Many of our patients enjoy massage for benefits including tight or tense muscles, joint pain, back or neck pain, circulation problems, lymphatic drainage, stress or anxiety relief and more. If you're wondering if massage can help you, the answer is yes!
Will I wear clothes during my massage?
We recommend taking your clothes off so that our therapist can provide you with the best possible care. We will place a sheet over you for modesty, and you will never have to worry about any type of unwanted exposure. If you prefer to leave your clothes on, that's perfectly fine too—just let your therapist know beforehand.
How should I prepare for my massage?
Preparing for a massage appointment is relatively simple. You shouldn't eat a large or heavy meal before your visit and be sure to drink plenty of water before and after your session. We recommend arriving to your appointment a few minutes early.
Should I let my therapist know about any injuries?
Yes, you should. Your massage therapist wants you to have the best possible experience and achieve excellent results. Let us know if you are currently dealing with any active pain or injuries so that we can accommodate your needs.
The Costs Involved
You have two options for your massages with our team:
$35 for a half-hour
$70 for an hour
If you're a new patient, you'll need to plan on being here a few minutes early to fill out paperwork.
Relax and heal with a massage Russellville. Contact us today to get started! We have convenient opening hours.
CONTACT US »

Massage Therapy Russellville AR | (479) 219-5030